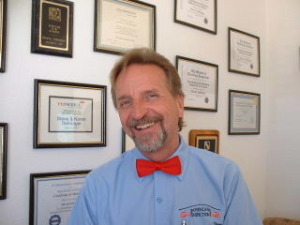 My name is Steven Dehlinger, I am a CREIA "Master" Certified Inspector #99, Member of The California Real Estate Inspection Association. (Certified CREIA Inspector since 2001) industry training and affiliations are listed below. I am very involved in "CREIA" , and seldom if ever miss a local education meeting or conference.
I have 30+ years of hands on Construction, Building, Maintenance, and Installation experience beginning in 1972 as Facilities and Maintenance Manager in my Dad's electronics manufacturing factory. I was eventually responsible for all building repairs, plumbing, electrical, additions, and improvements, as well as equipment maintenance & installation. Later, I managed a couple of owner-builder projects before becoming a General Contractor and Property Inspector. My Construction Company is American Real Estate Services. State Contractors License # 824670.  I do not do any repair work for a fee on properties that I have inspected. (One year restriction)
Inspection Training and Affiliations
Graduate of the levels I, II, and III, at the prestigious H.E. School of Building Inspection.
California Building Contractor # 824670
**Certified "Master" CREIA Inspector # 0099
North San Diego-Temecula Valley Chapter Secretary 2002 + 2015 + 2019
North San Diego-Temecula Valley Chapter Treasurer 2010 + 2018
Temecula Valley Chapter President 2003 + 2012
Certified Mobile Home Inspector, "American Institute of Inspectors"
Tile Roof Institute Certified Installer
**California Department of Real Estate Sales License # 01464784
**Licensed Multi-Engine/Instrument Rated Fixed Wing Aircraft Pilot
Last, but not least….
TIME Magazine 2006 "Person of the Year" ….Oh yea, you too….
**Requires continuing education and training
Beware…The State of California does not formally recognize any "Certified Home Inspector" training programs, or associations. (And there are plenty!!) My "Certification" is from a nationally recognized association with over 1000 active members. CREIA was one of the first recognized Inspection Association, founded in 1976.. The California State Legislature is currently considering several bills that could set down stringent and specific guidelines for the use of the term "Certified" as it relates to Home Inspectors. The bills are being watered down by special interest groups that would like nothing more than continue the endless parade of lower priced, so-called "Certified Home Inspectors". All California home-buyers would be wise to call or fax their State Senator and/or Assembly Representative to demand that a fair and enforceable bill be enacted with the most stringent requirements possible to protect the general public from being confused regarding the credentials, qualifications, and training of "Certified Home Inspectors". (Sorry; I'll get off my soap box)
Call or Text 951-522-9478 – We Accept Credit Cards